TOURS INSIDE INDIA

In 1985 Ebrahim Sulaiman Sait undertook an extensive tour of the country with leaders of All India Muslim Personal Law Board to educate the Muslims on the importance of Muslim Personal Law and establish solidarity with the Muslim ummah for the protection of Muslim personal law. During this tour Ebrahim Sulaiman Sait was accompanied by Late Moulana Ali Miyan, Late Moulana Minnatula Rahmani, Syed Shihabudeen, Mujahidul Islam Qasmi, Islam Sahib, Maulana Abul Lais Islahi, Manzoor Noomani Maulana Qazi Miyahidul Islam, Maulaha Shafi Muneez, and Maulana Ashraf Ali.

In 1992 Sait sahib again toured different parts of the country to carry forward the peaceful agitation for the protection of Babari masjid, and after its demolition, for reconstruction of the masjid where it stood in 1992.

In 1997, on the 50th year of independence from British rule, Sait sahib took part in the "Carvane Azadi" organized by All India Milli Council to appraise countrymen of the sacrifices made and the prominent part played by the Muslims in the freedom struggle. Other members of the tour included Qazi Mujahidul Islam, Dr Manzoor Alam, Moulana Ashraf Ali, and others.


INTERNATIONAL VISITS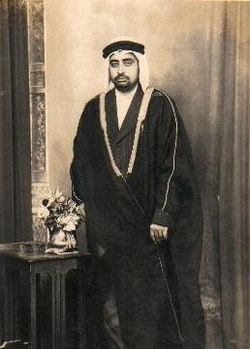 Photo taken during Hajj pilgrimage in 1954
Official Visits
On invitation by respective governments, he has visited:
Saudi Arabia 15 times. Makkah Mukkarama, Madinnah Munnawara,. Hail, Taif, Riyadh, and Al Khobar on invitation by the king Faisal bin Abdul Azeez, later king Fahad bin Abdul Azeez, four times by Rabiatul Alam al Islami, and once by Ministry of Haj and uaqf.
Abu Dhabi, Dubai, Sharjah, ras al Khaiman and Ajman, on invitation by the United Arab Emirates government
Baghdad, Najaf and Karbala in Iraq
Qum and Arfalien in Iran
Bahrain, Kuwait, Doha, Muscat and Oman, Syria, Jordan, Egypt, and Pakistan on invitation by the respective governments
---
Conference and Seminars Attended:
Minority Conference Seminar on Personal Law, London
International Islamic Conference, Baghdad
4th anniversary of Islamic Revolution in Iran
Conference of Rabitatul Alam al Islami (Muslim World League) at Jeddah
International Hijra Conference at Amman
International Hijra Conference at Sri Lanka
International Islamic Conference at Turkish Cyprus
Conference of Mutamar Alam al Islami at Pakistan
Minority Conference, and Conference of all World Religions at Chicago, USA.